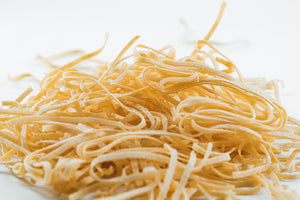 Peters ribbon noodles - buy ribbon noodles with egg online
Buchholz Gold, Peters ribbon noodles, 3mm - narrow vegetable noodles or wide soup noodles
Buchholz Gold "Peters ribbon noodles" are 3mm wide ribbon noodles that traditionally consist of durum wheat semolina and 15% egg. A sheet of dough is gently pressed through a bronze die, which is then rolled into a rough structure and cut into a 3mm width by a cutting roller.
Dried lying down at gentle temperatures, Peters ribbon noodles have excellent firmness and an intense, noodle-like taste.
The so carefully prepared ribbon noodles you can either simply with a little fried vegetables, with fish, a little "unclassical" as Matthias' pasta salad or how those who love broad soup noodles enjoy. Really delicious, of course Romys or Andrews pesto .

Simply order and buy now.
Contents: 250 ge

Ingredients: DURUM WHEAT semolina, Chicken FULL EGG (15%)
| | |
| --- | --- |
| Nutritional values per 100 g | |
| Kcal | 317 |
| Kj | 1327 |
| fat | 2.3 |
| saturated fat | 0.5 |
| carbohydrates | 60.1 |
| of which sugars | 0.4 |
| protein | 12.1 |
| Fiber | 3.5 |
| salt | 0.0 |